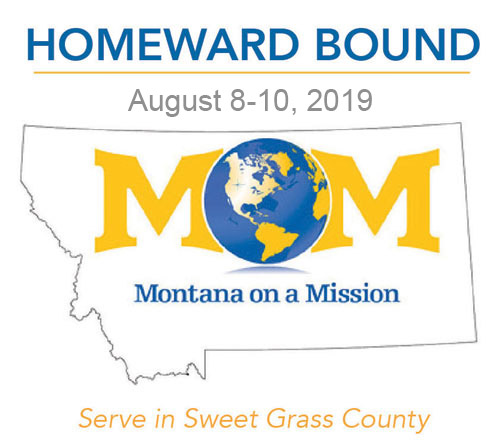 Homeward Bound is Montana On A Mission's opportunity to serve the community. In past years, we have organized volunteers to fan out into the community and serve (cleaning, painting, construction, etc). We now get calls all year long asking for help. Instead of one week of service a year, we would love to have a team of volunteers who could help when appropriate needs arise. If you are interested in volunteering to be a part of such a team, please let us know (bryan@montanaonamission.org).
We would love to respond to every request for help but will try to say yes to the biggest needs, especially those that concern senior citizens, single parents, those with fixed incomes, or those with a lack of an income. The thing that keeps us from saying yes, even to the high priority needs is a lack of volunteers. Please pray about signing up to help! We will try to keep service projects at 1 need per month. If we have enough people volunteer, then volunteers can personally say yes to 3-4 opportunities a year.
Here are some Homeward Bound Projects we are working on right now!
BACKPACKS
Homeward Bound with Montana On A Mission provides school supplies for children/families who can use a little extra help to get ready for school to start. We had 25 applicants for backpacks this year. Montana on a Mission buys the backpacks and sponsors sign up to buy school supplies. We need only 2 backpack sponsors to finish the task. If you would like to sponsor a backpack, please let us know by calling the church office or signing up on Sunday.
Make Big Timber Clean Day (Dump Day)
The Big Timber City Council approved a free dump day on Saturday, August 10th for Homeward Bound. Montana On A Mission is sponsoring a "Make Big Timber Clean" event on Saturday, August 10th from 8:30 am 11:30 am. We will have dump trailers around town for 3 hours. Sign up on the Montana On A Mission website for us to come by your house to pick up your unwanted items. Items must be household items. (Sorry, we can't take construction materials from large construction projects, — remodels, roofing, etc…, or large tree projects.)
You can help. Be a volunteer. Join us on Saturday morning August 10th at 7:30 am for a continental breakfast at the church. After breakfast, volunteers will spread out to pick up unwanted items for disposal.
Serving our Business Community
Business Service Day — Becky Rockeman is communicating with the coaches at the High School about a day to serve downtown — wash windows, sweep sidewalks, other… We are letting the coaches choose the day this year. We will provide lunch that day at the Evangelical Church. We need help to gather supplies (brooms, dustpans, glass cleaner, paper towels). It would be great to have some volunteers to help provide lunch or help organize things downtown. More information coming soon!