Homeward Bound
We'll work together to mobilize at least 100 people in our own community to work on service projects and live out the command of Christ in Sweet Grass County!
TGIF Golf Night
Join us Friday, August 19th at beautiful Overland Golf Course for a 4-Person Scramble. The cost is $50 per person and includes a delicious catered steak dinner and a cart – while they last! There will be prizes, dinner, and FUN! Check-in from 4:30 – 5:15. Shotgun start at 5:30. Space is limited, sign up today!
100% of proceeds go directly to Montana on a Mission programs.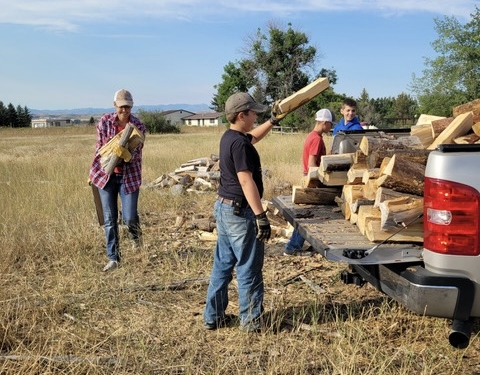 It's been an incredible 5 days of service and 5 days of incredible blessings for all involved. If you haven't been able to join us, don't worry! You can still join us for breakfast tomorrow (Saturday) morning at 7:30 a.m. at the Evangelical Church. We will enjoy a delicious breakfast get briefed on the projects of the day and head out to serve with love.
We need another 25 volunteers tomorrow morning to finish strong! Have an hour or two?  Come by ANYTIME to the office, and we can direct you to a project. We have window washing, painting, yard work, as well as our sports teams serving our local businesses in the afternoon and our dump trailer drivers and loaders hauling to the dump.
Carpe Diem! Be blessed.
Montana on a Mission's most recent clean water projects in rural Kenya, where there is an extended drought, were a huge success! 25,000 people now have access to clean drinking water for life, and 8 schools now have clean water on site.
Why We Do It
We do what we do because God has blessed us! We want to be His hands and feet in this world. Our hearts break when people don't have water, food, clothing or shelter.
We are not a relief organization, or at least not in the typical sense. Most of our work is done in communities where we have established relationships and we always go as learners and not just doers. We work with people in partnerships where we come alongside those in need and allow them to come alongside of us.