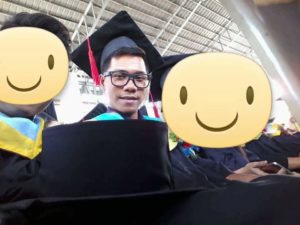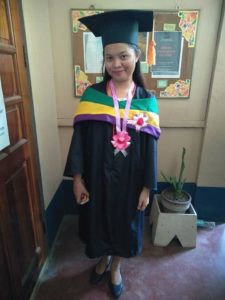 Congratulations to two of our FcfLoboc Linkers! We have watched Marlon and Gelie May grow up and make the most of their opportunities while growing their relationship with Christ. They both graduated from college last week and are ready to go forth and serve others.
Read their thank you messages to all the MOM supporters who supported them financially and through prayer.
Marlon and Gelie we wish you the best!
May the Lord bless and keep you
The Lord make His face shine upon you
and be gracious to you
May the Lord look upon you with favor
and bring you peace.
Numbers 6:24-26
From Marlon:
I praise God for great people like you who have a heart to help people like us who need financial support for us to reach our dreams.
I am very grateful for the support that you have given us not just financially but also in prayer. I am very much joyful for the years that you have not ceased in spending your money helping us, I will always remember the goodness that you had given and I promise that all your goodness and help will never be in vain.
The degree which I earn, I owe this to God and to you , may you never stop helping people like us.
As much as I wanted to say everything to you, but there is no enough words to express my deepest thanks to all of you..
God bless you even more!!!
Philippians 1:3
(I thank my God upon every remembrance of you)
Yours,
Marlon L. Zerna Jr.
From Gelie May:
Sir Denny & MOM,
Thank you !
I thank God of what He has done in my life. I also thank God because he used amazing people to help us to achieve our dreams, be able to graduate in college ang support us financially. I am glad to achieve this dream with you, and be able to get a good job.
Thank you so much for extending your prayers, love and money.
God bless to you all
more good health
Gelie Mae Lagang